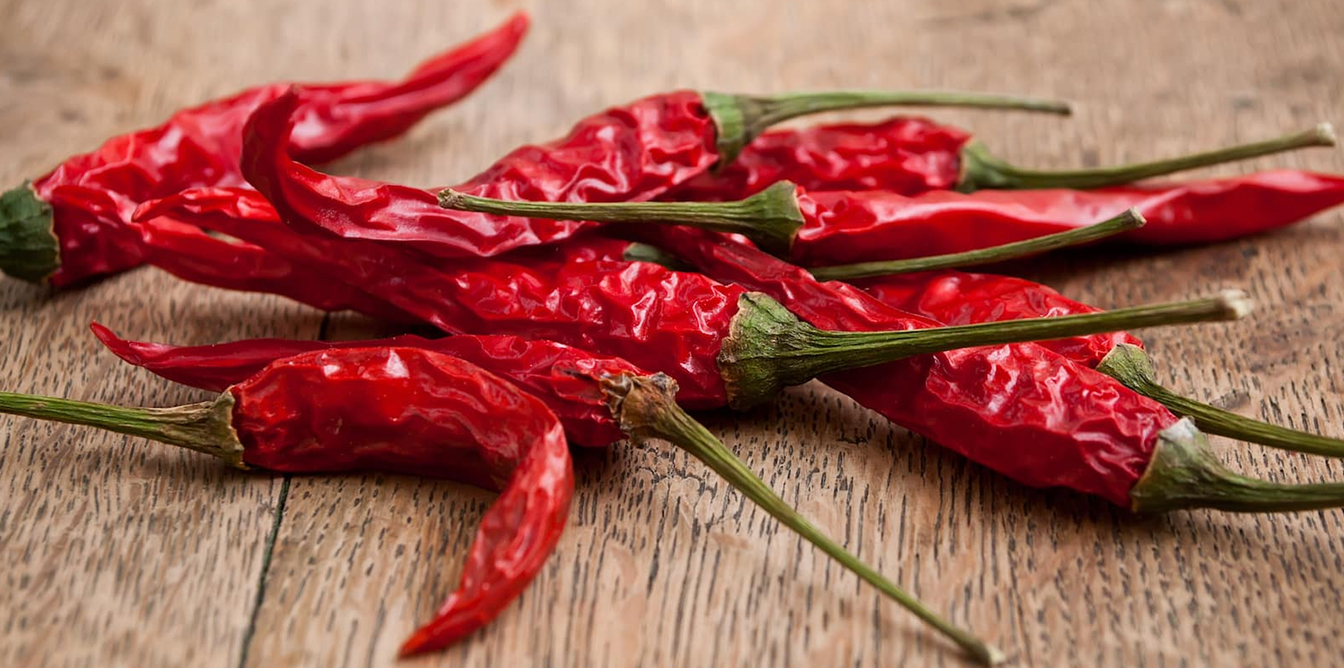 A Complete Guide to Different Types of Indian Chillies
When we think of Indian spices, the first thing that gets to our mind is 'CHILLI'. The hot, the pungent and the red devil amongst the spices, the red chilli is the crucial spice for Indian food where no dish is complete without a sprinkle of this exotic sizzling spice.
India stands top on the list of the prime red chilli exporters in the world.  According to a research, nearly 13.6 million Tonnes of red chilli is produced annually here. Chilli export from India accounts to meet nearly 50% of the demand of this wonder spice across the world.
There are several varieties of Indian chillies, while some are very hot and can get your fists clenching and tears rolling down, few are less pungent and just known for their taste and color instilling properties. So, let's now check out the most popular of the red chillies found and produced in India.
Sannam Chilli: This is the king of the red chilli variants found in India and is mainly produced in the regions of Andhra Pradesh and Madhya Pradesh. However, the best of Sannam chilli is produced in Guntur region of Andhra Pradesh. Popularly called as Sannam S4 or 334, this is hot, medium sized and bright red colored chilli highly in demand because of its mouthwatering aroma, flavor and medium pungency. This chilli is widely used in Indian, Chinese, European, Mexican and Japanese cuisines. It's not only about the taste, but this spice also adds up to your health by stimulating your appetite, digestive system and blood circulation.
Byadgi: Byadgi or 668 byadagi is one of the most demanding red chillies in both the Indian and international markets. As the name suggests, this chilli is produced in byadagi region of Haveri district of Karnataka. These are wrinkled, long and dark red colored chillies widely acclaimed for their ability to retain their nutritional values for a longer period of time. Not only does it enhance the flavor of your food, but also instills health enriching vitamins and minerals like manganese, foliate, potassium, thiamin, vitamins A, B, C and E in it. This is available in various forms in market like byadgi chilli with stem, without stem, crushed dry red chilli flakes and dried red chilli pepper powder.
Teja S17: Produced in the fertile soils of southern India, Teja or S-17 is the most hottest and widely demanded chilli in the global market. It is known for its fiery hot peppery flavor and rich aroma and used in preparation of red chilli powder, stir-fry, soups, stews and variety of cuisines. For all those spice lovers, who like hot and delicious food, this is the spice for you.
Wrinkle 273: Another variant of red chillies produced in Guntur region of Andhra Pradesh is 273 Wrinkle chilli which is renowned globally and exported to countries like Asia, Canada, and Europe. This bright red colored chilli contains lesser seeds and is known its pungency, high color & Mouth Watering aroma.
Indo 5 Chilli: Popularly known as Indem- 5, US- 5 and Endo 5 Chilli, this is one of the most famous red chillies in India that gets exported in large quantities across the globe. Andhra Pradesh, Karnataka and Maharashtra are the major producers of Indo 5 red chilli in India. This is longer in size, has a thicker skin and a comparatively low heat value.
Kashmir Chilli: Kashmiri chilli as the name suggests is produced in colder regions of Kashmir and is the most sought after red chillies in India for its color. Popularly called the Kashmiri mirch, this chilly is used in powder form in Indian kitchens to instill dark red color and Mouth Watering taste to the food. This is less hot and pungent as compared to other red chilly variants.
Jwala: This is the most popular red chilli of the west. It is produced in Kheda, Mehsana and various southern parts of Gujarat. It's highly pungent, light red colored chilli widely used in various cuisines of the state.
Dhani: Popularly called the Bird's Eye Chilli because of its shape, Dhani is widely produced in Mizoram and some areas of Manipur. Though the tiniest, this is a really very spicy, highly pungent and bright red colored chilli which is widely available in markets of Calcutta.
Ramnad Mundu/ Gundu: This is the fat round chilli produced in fertile regions of Ramnad in Tamil Nadu. Gundu in Tamil means fat and round. Hence the name. This chilly widely preferred to add spiciness and mouth watering flavor to chutneys, sambar and tadkas in Southern India.
The list does not end here as there are numerous varieties of red chillies produced across India including its North, East, West and South regions. The list includes Mathania, Longi, Bhavnagari, Boriya, Reshampatti, Sankeshwari, Sangli Sannam, Nalchetti, Titimiti, Bhut Jolokia, Warangal Chappatta, tadepalli chillies, Madras puri, hindpur mirch, kanthari satttur and many more. While Habanero, jalapeño, cayenne, Serrano and poblano are a few of the widely acclaimed varieties of chillies produced and used across the globe.